» Business
» How To Scale Your E-Commerce Business with Automation (Step-by-Step Guide)
How to Scale Your E-Commerce Business with Automation (Step-by-Step Guide)
BY: VIKAS AGRAWAL ON TUESDAY, AUGUST 29, 2017
In the world of e-commerce, growth should be a never-ending pursuit. With everyone else in your competition wanting to put you out of business, you can never – not for one second – be complacent.
The good news is, the internet is a goldmine of information and resources that can help you get ahead. Some talk about strategies that will help you dominate search engines, while others focus on treading the treacherous landscape of digital advertising. This time, we'll take a look at scaling your e-commerce business at a fundamental level.


Why Automation?

There are two primary indications of business growth: more money coming in, and less money going out. Automation helps you achieve both.
With automation, you can:
Reduce human error 
Never miss timely opportunities
Speed up the sales cycle
Improve the quality of your leads
Save money from overstaffing
Most importantly, now is the best time for you to adopt automation in your e-commerce business. 80% of marketers are planning to adopt automation since the beginning of 2017. Out of those who already use it, 63% wanted to increase their budget.
To meet this growing demand, innovative vendors and business software companies have made automation more accessible through affordable tools. Before we get down to the nitty gritty of e-commerce automation, here's an infographic to show you what your automation toolbelt may look like: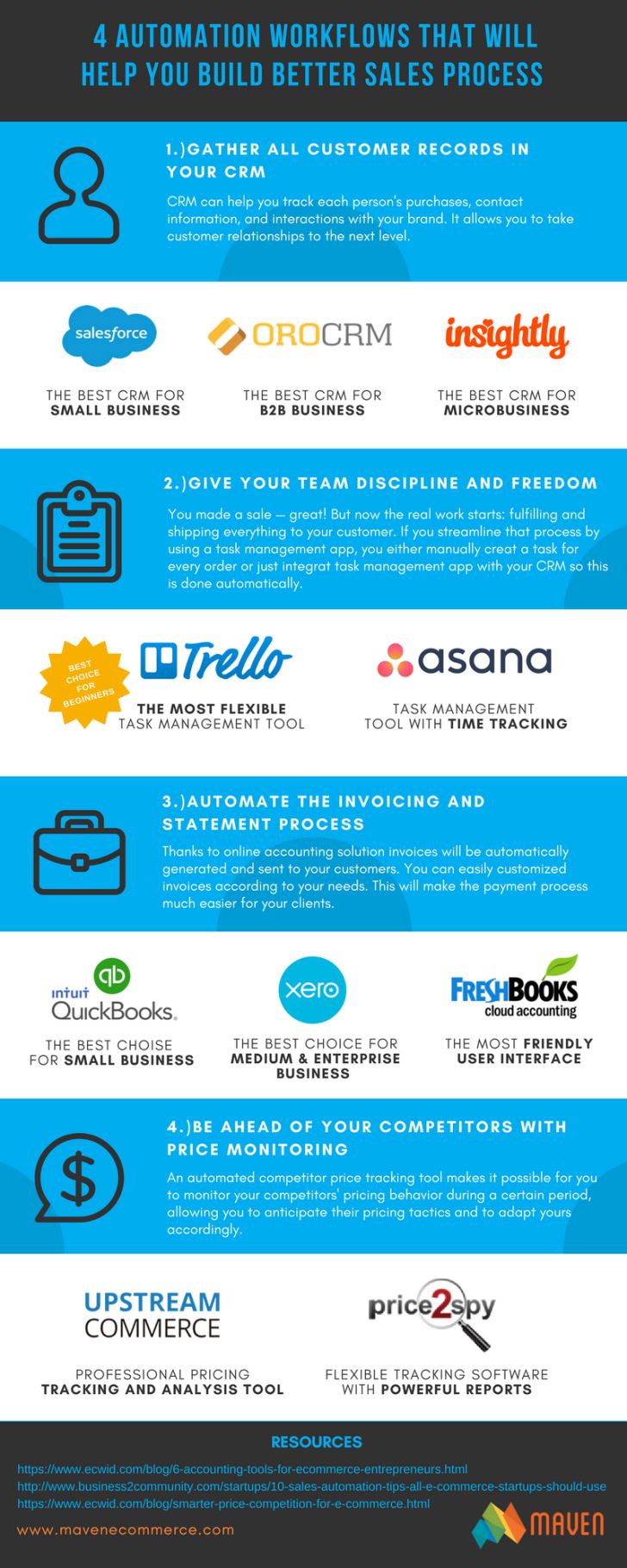 ( Infographic source: MavenEcommerce )

Inventory Management & Record-Keeping

Sometimes, the best way to take your first step is to make a big leap. With an accounting software like Quickbooks, you can have a full view of your financial picture along with real-time inventory monitoring – all in the same place. But that would be undermining what this platform can really do.
As far as inventory management is concerned, Quickbooks help you with three things: viewing how many products you have in stock, having a real-time valuation of everything, and staying ahead of all purchase orders.
Before anything else, you need to add all your products and services within the platform. You can do this by going to Settings > Products and Services > Add a product or service. This will give you the following options.
From there, you can add all the important details. This includes the product name, category, initial quantity on hand, sales price, and so on.
To get started with inventory management automation, you need to pay attention to the Inventory asset account, Income account, and Expense account. Here, you need to fill in the appropriate accounts you have prepared in your Quickbooks account. Whenever you sell or buy a product, those accounts will automatically be updated.
You can also specify a reorder point, which helps you ensure you never run out of stock and miss sales opportunities.
Now, to synchronize your e-commerce sales with your accounts, you need to integrate your e-commerce platform to Quickbooks. These integrations can be made by going to the expansive Apps library from the main dashboard. For a more dynamic inventory management, you can also integrate third-party inventory software like TradeGecko, SOS Inventory, and Stitch Labs.

Automating Word of Mouth Marketing

Word of mouth marketing is one of the proven ways to raise awareness, acquire more leads, and build trust in your brand. And it isn't limited to personal conversations between friends and colleagues.
With social media platforms, opinions and peer recommendations can easily spread like wildfire. You can further accelerate this process with a tool like Sobu -- a word of mouth marketing platform that makes it easier for customers to share their experiences with your brand.

Sobu works via plugins that can be embedded straight into your ecommerce website. It lets you create discount offers that are then used and shared by customers. As a result, paying customers become brand advocates themselves that vouch for your brand in the social space.

Automating Cloud Processes

Implementing automation is a great way to improve the efficiency of your cloud processes. This encompasses the online collaboration of your marketing, sales, and technical teams as well as your personal efficiency as a business leader.
For this, there is a myriad of services and tools you can use to create your workflow. The centerpiece, however, will be IFTTT – short for If This, Then That.
To understand how IFTTT works, you can start at the search page for workflows or "Applets" that other people already use. There are applets that automatically archive
Twitter mentions to Google Sheets, send starred emails to Trello, save Facebook posts to Evernote, and more.

You can use Applets by simply clicking on them and then flipping the Turn on button. Of course, you may need to provide your login credentials for some services in order for the Applet to work.
If you have an idea on how to automate with IFTTT but can't find the right Applet to make it happen, you can try building your own by going to My Applets > New Applet.
This will allow you to assign specific services as the trigger and action in your Applet. Remember that each service comes with a unique set of configurations as trigger and action. Since there are over 360 supported services in IFTTT, the best way for you to figure out combinations is to search and test the services yourself.

Additional Automation Tools

If you think the three tools mentioned above aren't enough to meet your e-commerce needs, here are two more options you can try:
MailChimp – A free alternative to GetResponse. MailChimp allows you to create automated workflows, design beautiful emails, and manage your mailing lists in a single location.
Oberlo Dropshipping – Oberlo is a dropshipping automation platform that allows you to import products straight into your Shopify store. It automatically fulfills orders, updates product prices in real-time, and helps you track shipment and sales.


Conclusion

The online business world truly is an ever-changing landscape. But rather than burning cash with new frontiers such as experiential marketing and VR campaigns, sometimes all you need to do is look at what you already have.
With automation, you can supercharge the efficiency of your key marketing and selling processes without spending too much. All you need are simple tools that let you build workflows and a head full of ideas on how to utilize them well.

Do you use automation to run your e-commerce business? Do you have any workflow suggestions you'd like to share? Please let us know by leaving a comment below!




Image via Shutterstock